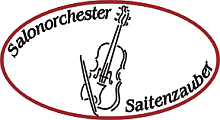 The Salon orchestra Saitenzauber is made up of four musicians from the Konzerthausorchester Berlin, two violinists, one cellist and one bass player joined by our wonderful pianist.
It is our great pleasure to bring back to life the old Berlin and Viennese tradition of coffee house, danse and entertainement music.

Already the grandfather of our solo violinist Cornelius Katzer charmed the crouds in the 40's and 50's with his successful group "The Golden Twenties".After many engagements and devotion, the tradition of salon orchestra developed through the generations to a high level of performance.Our repertoire now ranges from delightful background music to dance music and guarantees a magical evening of pleasure.